【Event】1st Kashiwa-no-a Waku-Waku concert
カテゴリ:What's New
投稿日:2018/03/12
We are please to inform you that a music concert will be held in Kashiwanoha area on Saturday, March 24, with special tie-up of the University of Tokyo Kashiwa Library and UDCK as follows.
==
A unique music concert was born in Kashiwanoha where unique town development is going on.
Its name is "Kashiwa-no-a Waku-Waku concert". The concert consists of two parts, a chamber music and an orchestra, performed by Charles Neidich (Commander/Clarinet),  The University of Tokyo Orchestra, Naoko Oshima (Piano) and Ayako Ohshima (Clarinet).
As the name implied, it is a fascinating program. We are looking forward to welcoming you at the Wakuwaku Concert.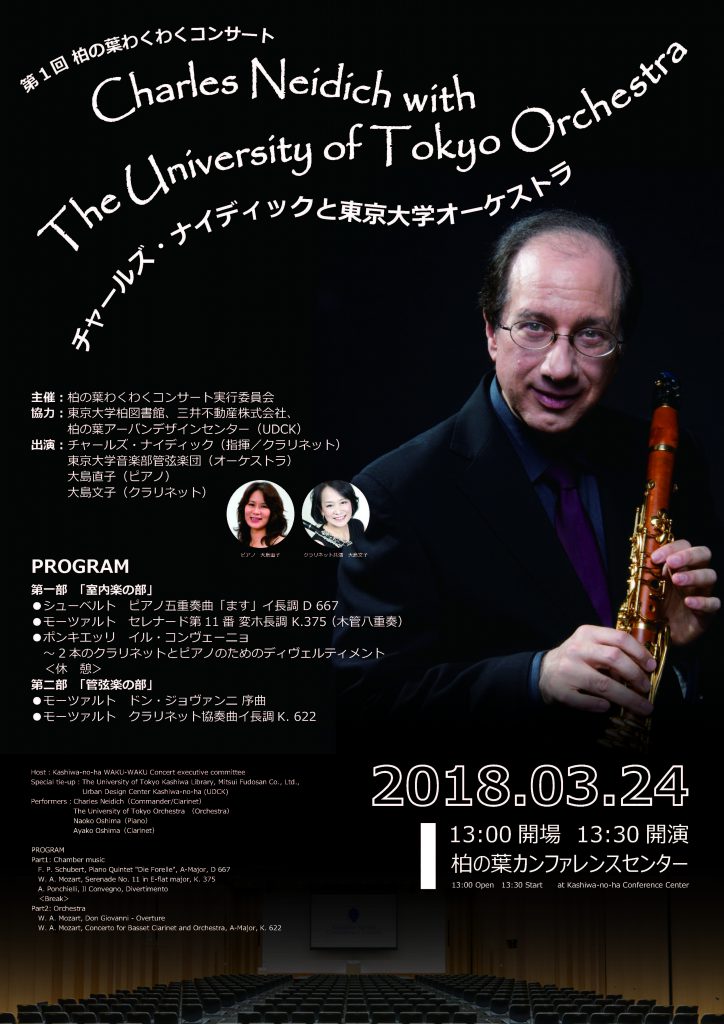 1.Date:Saturday, March 24th 2018 
                       13:00 Open, 13:30 starts
 2.Venue:Kashiwa-no-ha Conference Center
                        (2nd Floor of Mitsui Garden Hotel Kashiwanoha)
 3.Program:
   Part1: Chamber music
F. P. Schubert, Piano Quintet "Die Forelle", A-Major, D 667
W. A. Mozart, Serenade No. 11 in E-flat major, K. 375
A. Ponchielli, Il Convegno, Divertimento
    Part2: Orchestra
W. A. Mozart, Don Giovanni – Overture
W. A. Mozart, Concerto for Basset Clarinet and Orchestra, A-Major, K. 622
  For details, see here.。
 4.Ticket
  3500 Yen (Tickets are available at Ticket PIA チケットぴあ.)
 5.Host︓
Kashiwa-no-ha WAKU-WAKU Concert executive committee
   Special tie-up︓
The University of Tokyo Kashiwa Library, Mitsui Fudosan Co., Ltd.,
Urban Design Center Kashiwa-no-ha (UDCK)
 6.Inquiries: kashiwanoha.wakuwaku@gmail.com